A variety of materials, a unique project: the kitchen that sounds refined and natural
In a new project, the furnishing of the kitchen room is different from what you see in magazines. We want a modern, warm environment. Colors, lines, materials and finishes that speak of conviviality, of cooking, where the process of production of culinary delights is a lifestyle.
A concept that has been a bit lost over time, because of the continuous search for rigorous lines and pure design. This design, here, brings back the desire, the desire, the ambition to feel at home, relaxed and calmed. A happy kitchen.
Here are the materials used: a thick breakfast counter, in solid canaletto walnut wood, important, strong. A white Carrara marble top, also thick, and underneath the other part of the kitchen, in a tone reminiscent of water green.
The secret ingredients for a delicious kitchen
An overall look, where, however, we can see some details, some ingredients that make the atmosphere delicious.
Here above is the view of the sink area, created and custom built with the same material as the top, white Carrara marble. A single tank, a monolith that descends from the floor.
Below, apparently all doors, which hide the maxi-trolley for separate waste collection, the dishwasher and a door, there, at the bottom, for storing …. The owner's wishes.
And the soothing, magical panorama that can be seen from the large windows. A continuum between inside and outside, where nature continues inside.
And behind the island, the squared, metallic structure, of a more intense and charged green than the kitchen. Metal here, allows a finer processing than wood, creating bookcases and overhead storage compartments. Strong in color, light in the passage of natural light.
A kitchen connected with nature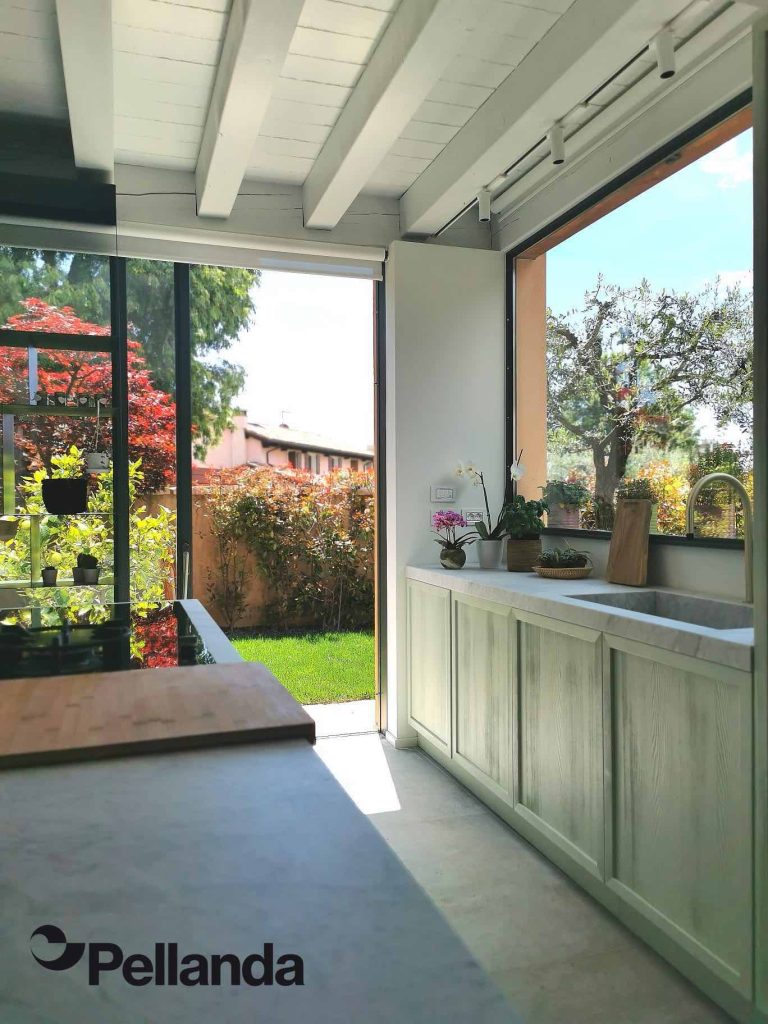 The last glimpses, other details on the wood grain, always in aqua green tone. It is an overall glance between inside e and nature that speaks to you and tells you about living well, about a new life where it is nice to feel at home.
Whatever your home is and what is the style you like more, a tailor-made work is the solution to your case. Yes, even for you! Get in touch with  us, it will be a pleasure for us to find, together with you, the idea and realisation of your new kitchen. And the turning point of your life. Because you have the right to have the best!